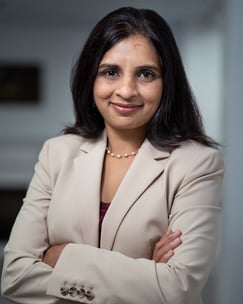 Dr. Naseem Chatiwala, PT, DPT, MS, NCS
Board-certified Neuro Clinical Specialist
Certified Vestibular Specialist
Founder and Owner, Physical Therapist

My story: Physical Therapy should be fun and empowering! In my 2 ½ decades of physical therapy practice I have learned that patient engagement and trust are key to optimal outcomes. Working in a variety of clinical settings from inpatient to home care and outpatient facilities, has made me aware of patients' needs in every environment. Also, working with patients and families from different cultures, backgrounds and ages has taught me that every patient is unique and needs a tailored rehabilitation program. My experiences as a continuing education instructor have allowed me to travel both nationally and internationally adding to my world view of the neuro recovery practice.

Foundation: It is this desire to create individually tailored recovery programs that go beyond traditional rehabilitation therapy (with gym and maintenance programs) that led to the founding of Rehab Health 360. By blending medical knowledge, years of clinical experience and teaching, Rehab Health 360 has created innovative and systematic movement analysis systems to identify underlying impairments. Each treatment session is uniquely developed using the latest evidence-based treatment techniques to deliver desired benefits. We emphasize independence, motor learning & neuro plasticity for all our patients with functional goals being the highest priority. Coupled with effective communication, and a comprehensive home exercise program, we strive for complete satisfaction at every step of the neuro recovery journey.

We are passionate about what we do and offer our patients a convenient and efficient way to stay active with physical therapy on a continual basis. Recurring physical therapy visits require planning, a prescription from a physician, and often, a visit to the Primary Care Physician. Rehab Health 360 helps streamline this process. We do not need a physician prescription to start therapy. Instead, the plan of care will be sent to your doctor for their signature, which will allow for continued therapy. Rehab Health 360 also offers three levels of gym membership program, where patients can exercise under the supervision of a physical therapist guiding them on the exercise regime & intensity.
About the Founder
Naseem Chatiwala is a board-certified neuro clinical specialist and a certified vestibular clinical specialist with a 20+ years experience as a physical therapist treating variety of complex neuro diagnoses. Naseem graduated with a Bachelor in Physiotherapy from Gujarat University, India, a Master in Neurologic Physical Therapy from MGH Institute of Health Professions in 2003 and a Doctor in Physical Therapy from the MGH Institute in 2006. Naseem started her career in United States at Spaulding Rehabilitation Hospital in Boston, MA, where she worked for 10+ years. Naseem later joined Emerson Hospital, Concord, MA outpatient rehab center. Naseem has been instrumental in developing vestibular task force at Spaulding Rehab Network and the neuro and concussion program at The Clough Family Center for Rehabilitative and Sports Therapies (Emerson Hospital). She has also helped develop guidelines for the balance clinic, vestibular screening, baseline concussion testing, and return-to-play protocols post concussion. She is an adjunct faculty in the Doctor of Physical Therapy program at MGH Institute of Health Professions and University of Massachusetts-Lowell. She is a course developer and instructor for Summit Professional Education, where she teaches in-person and online webinars offering the continuing education courses to Physical and Occupational therapist on numerous neuro diagnoses. Naseem is actively involved in American Physical Therapy Association (APTA) and served as a co-chair of the American Physical Therapy Association of Massachusetts (APTA of MA) Neuro Special Interest Group from 2017-2019. She is currently a co-chair of the APTA Concussion Clinical Practice Guideline knowledge translation task force. Naseem has presented at various state and national conferences and has won awards for excellence in research for case study (poster presentations). She was awarded Emerson Rehab 2019-Excellence in Education Award and most recently received the APTA of MA 2021 Outstanding Achievement in Clinical Practice Award.
APTA of MA 2021 Outstanding Achievement in Clinical Practice Award